The Grand Palais launches the 1st edition of "Seasons"
---
On Saturday, May 26th, 2018, the Grand Palais will launch "Seasons", a brand-new concept of night-clubbing events created by producer and scenographer Michaël Rheins. Each season, the monument, nestled a few metro stations away from the Green Hotels Paris, the Eiffel Trocadéro and the Gavarni, will organise a special evening dedicated to spring, summer, autumn or winter. For this first edition, the glass room of the Grand Palais will be turned into a full-scale tropical forest, with a luxuriant vegetation consisting mainly of exotic flowers. Starting 10p.m., electro music lovers will have the chance to discover the current stars of the international electro music scene. The DJs Butch, dOP and Michel Cleis will thrill the crowd with their long-awaited line-up. As guests of honour, the Grand Palais will welcome the Israeli DJ Guy Gerber and the British Jamie Jones. From 10p.m. until 6a.m., this event will make you see Parisian nights in a whole new light!
Seasons, Saturday, May 26th, 2018, from 10p.m. to 6a.m.
Rates: from €49 to €69.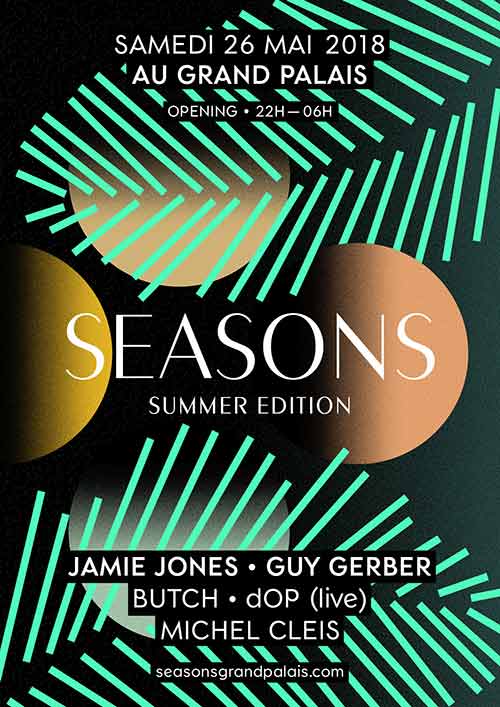 Seasons Poster May 2018 © Studio Les Graphiquants
Grand Palais
3, avenue du Général Eisenhower
75008 Paris
France
Tel: +33 (0)1 44 13 17 17
Metro: Champs-Elysées-Clemenceau (lines 1 and 13) or Franklin D. Roosevelt (lines 1 and 9).