The 2017 edition of the Marjolaine Show celebrates the water
---
For its 2017 edition, the Marjolaine Show offers a strong thematic around the water, a precious vital resource, from 4th to 12th November, 2017, at the Parc Floral de Paris. How does the water get into homes? How is it handled in town? What is its purification cycle? These are question which the event will answer through conferences and discovery workshops. In addition, this year, the greatest organic market of France highlights three key trends: The Innovation, the "Produits Sans" (products without noxious ingredients for health and environment) and the Vegan. But it will also reach others themes like the Zero waste, the Reusable, and the Regional Groupings. Thanks to its 560 exhibitors, it represents now all the organic sectors: organic agriculture, ecology, sustainable development and natural wellness. Another great novelty, the "Ferm' Marjo" dedicated to children, located on the esplanade, to allow them to meet the animals, at the heart of the show. Finally, the "Food Fest" gathers all the organic restaurants. All the exhibitors' products are from now on Sevellia, the newest online shop of the show (website in French).
Salon Marjolaine (website in French), from 4th to 12th November, 2017.
Open from 10:30a.m. to 7p.m.
Nocturnal until 9p.m. on Friday 10th November, 2017.
Full price: €10 / Reduce rate: €7 / Free for those under 12.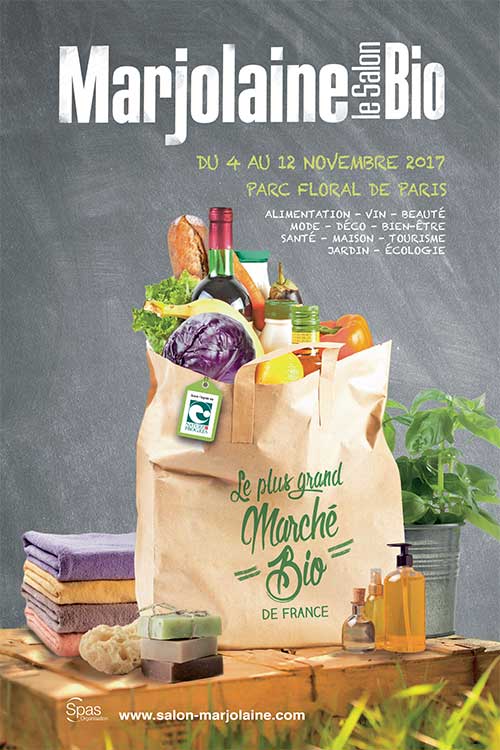 © Faust Favart
Parc Floral de Paris
118, route de la Pyramide
75012 Paris
France
Tel: + 33 (0)1 49 57 24 84
Metro: Château de Vincennes (line 1).