The avenue Marceau Maison Noura restaurant gets a makeover
---
The Maison Noura restaurant of the avenue Marceau, located near the Green Hotels Paris, the Eiffel Trocadéro and the Gavarni, serves one of the best Lebanese cuisine in the capital. It has just been redecorated by the architect and interior designer Pierre-Yves Rochon, in a style which combines oriental and contemporary touches.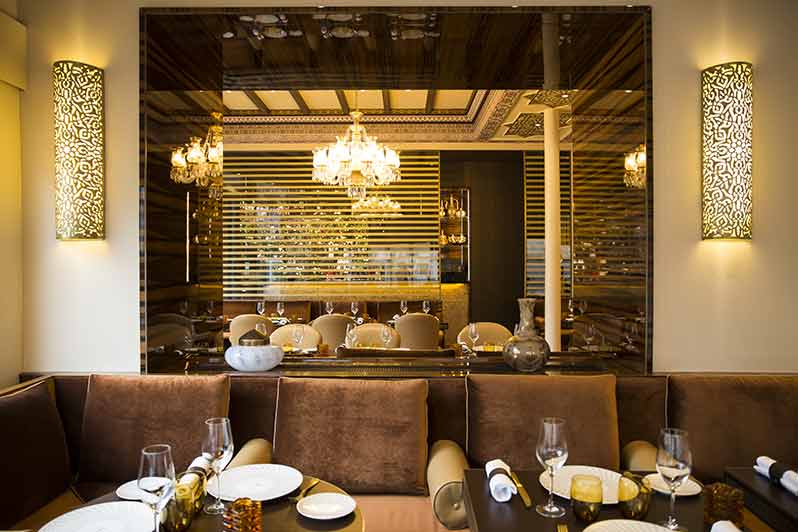 Maison Noura © Emilie Albert
Embark on a journey…
Pierre-Yves Rochon imagined a place at the crossroads of genres, as a subtle traditional and modern mix. Thanks to the precious materials used during the renovation, the Maison Noura offers a delightful change of scenery and a one-way ticket to Beirut. In addition to the pearly wall lamps, we love the bronze and golden tones of the restaurant. The wooden furniture, such as the tables covered in a chocolate-brown leather coating, was designed by the Maison Tarazi, a brand which has been a reference in Lebanon for over 150 years. The decorator thought of every single detail: even the facade of the establishment is adorned with a very elegant lacquered black shade.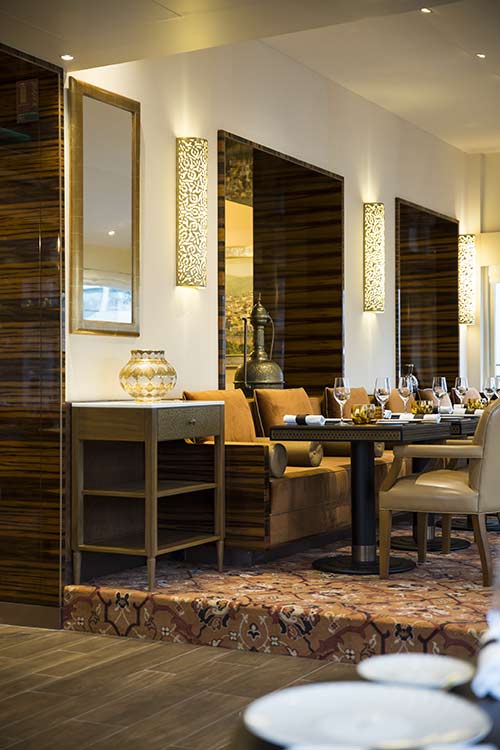 Maison Noura © Emilie Albert
A world tour of flavours
The Maison Noura celebrates Lebanese cuisine all the while drawing from Mediterranean or Middle Eastern flavours. The chefs use spices and aromatic herbs to colour and perfume their dishes, from cardamom to Aleppo pepper, coriander and cumin. In addition to the traditional mezzés, hummus or moutabal (a purée of eggplants with sesame cream, lemon and olive oil), Maison Noura offers fish-based dishes. Whether prepared in carpaccio, ceviche or tartar, the fish is sublimated like the crusted seabream with fresh herbs. To end on a sweet note, we succumb to the delicious baklavas, their traditional pastries made with pistachio or orange blossom.
Open from Monday to Sunday from 11:30a.m. to 3:30p.m. and from 7:30p.m. to midnight.
Valet parking.
Moutabal: €12 / Hummus: €11.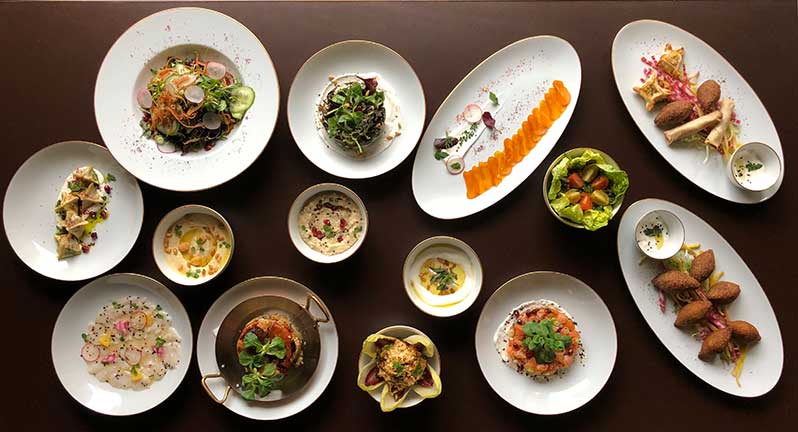 Maison Noura © Emilie Albert
Maison Noura (website in French)
21, avenue Marceau
75116 Paris
France
Tel: +33 (0)1 47 20 33 33
Metro: Alma-Marceau (line 9).