FLOWERS IN THE SKY OF BERCY VILLAGE THIS SUMMER 2020
---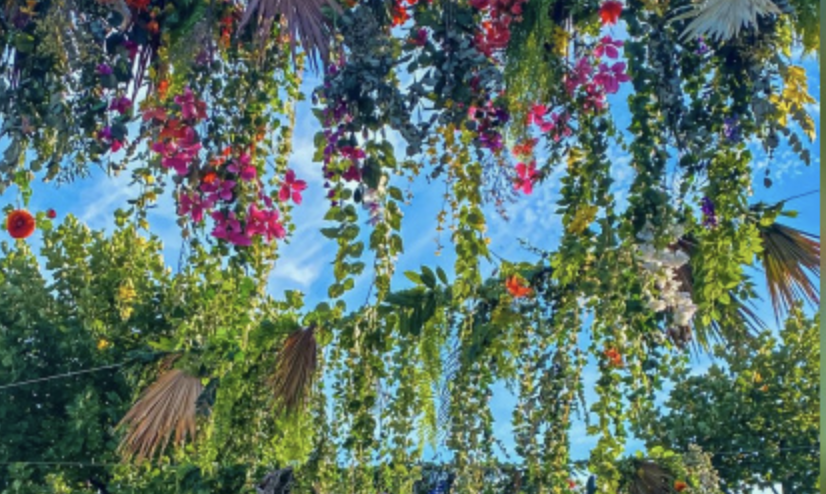 This summer 2020, flowers will blossom in the sky of Bercy Village. Les Naturistes landscaper Audray Roy-Camille proposes an exclusive and poetic installation: 2,600 flowers hanging in the air, like garlands. To see and take picture of from July 11 to October 11, 2020.
The ancient wharfs of Bercy Village are some of the most insta-worthy places in Paris. We must say that the open-air shopping mall often invites artists for crazy installations: Patricia Cunha's balloons, Jordane Saget's neon cloud, Fred Sapey-Triomphe LED carpet, have marked the spirits. This summer 2020, it is landscaper Audray Roy-Camille qui is invited by the center. She has decided to fill Paris sky with flowers from July 11 to October 11, 2020.
With her team, les Naturistes, she created garlands of flowers that will "dance above the cobblestones". All in all, there will be 136 meters (446.19ft) of garlands of flowers that will be decorating the sky, to make you see life pink-colored glasses. It took 120 hours of creations to create the 2.600 flowers and 1.200 leaves to put color and joy in the sky on the occasion.
You just have to wear you best outfit, take your camera and head to Bercy Village. You can then make the best of your stroll to try one of the restaurant terraces, or go to the parc de Bercy just next door.