Kandinsky the Odyssey of abstraction
---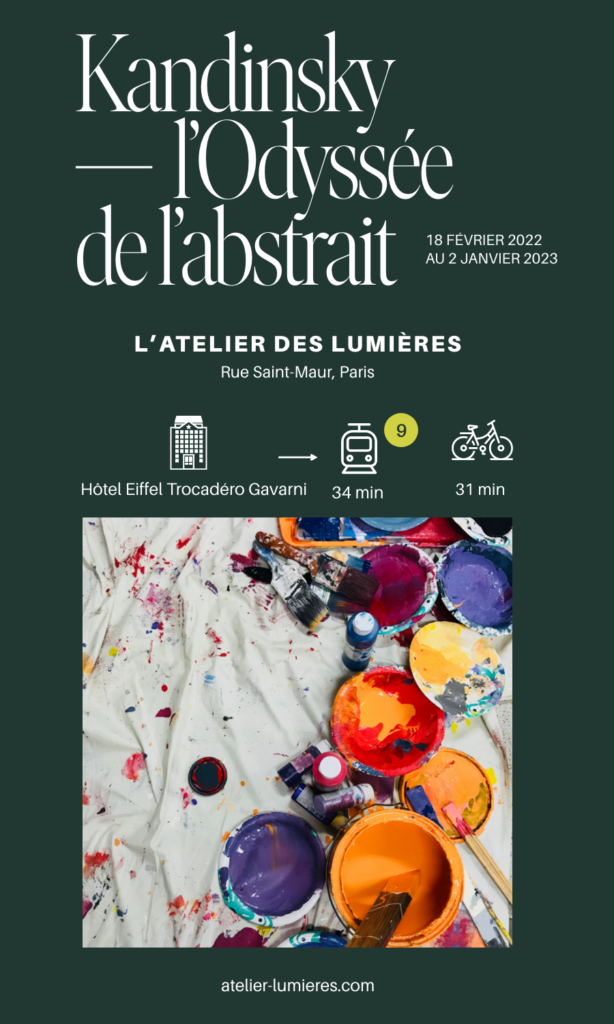 After the exhibition dedicated to Cézanne, enjoy a creation which lasts about ten minutes, based on Vassily Kandinsky's works (1866-1944).
This immersive exhibition takes place in two stages, split in two by the the major emergence of the invention of abstraction. The first part shows the artist's figurative beginnings, tinted by impressionism, oniric fauvism and a touch of pointillism. You will be immersed in Kandinsky's memories, the russian folklore, his mythical capital.
The second part is more experimental, revealing the power of movement and rhythm in his shapes and colours. By plunging into a chromatic explosion, you will discover the most representative meaningful works of this surge for modernity: from Composition VIII (1923), Yellow, red,blue (1925), to his ultimate  biomorphic creations.
Whilst getting closer to music, painting gradually gets rid of the coercion of representation and discards the reference to a real world in order to privilege our interior being.
This immersive exhibition, which represents a genuine journey into Kandinsky's interior cosmos, encourages you to lose all your points of reference in order to reach a final abstract and liberated osmosis.