Exhibition: L'Inca et le Conquistador
---
The Parisian Musée du quai Branly's new exhibition starts tomorrow and will revisit the various stages of the Inca Empire's conquest. In order to do so, it produces the portraits of conquistador Francisco Pizarro and Inca Atahualpa, to give us an overview of the way Inca and Hispanic worlds came together. Visitors are thus invited to discover items from both cultures: paintings, cards, sculptures and period engravings. Through these artifacts and the Spanish and indigenous tales of this conquest, a new light is shed on key moments of the South-American continent's history. A vast retrospective close to the Green Hotels Paris, which will unmistakably ravish all History and legends enthusiasts.
"L'Inca et le Conquistador" exhibition, from June 23rd to September 20th 2015.
Open on Tuesday, Wednesday and Sunday, from 11am to 7pm.
Late opening on Thursday, Friday and Saturday until 9pm.
Full rate: from €9 to €11.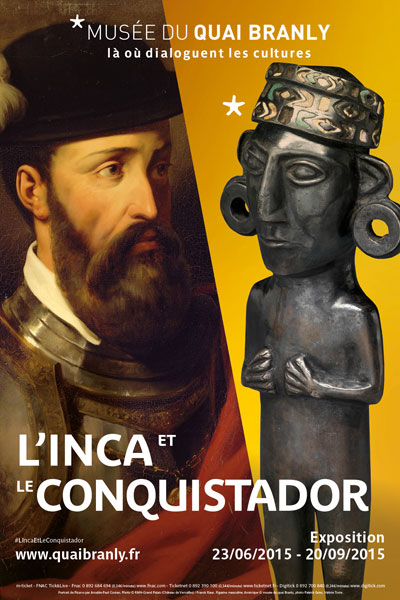 Musée du quai Branly. Exhibition poster: L'INCA ET LE CONQUISTADOR.
From June 23rd to September 20th 2015.
© musée du quai Branly
Musée du quai Branly
37, quai Branly
75007 Paris
France
Tel: +33 (0) 1 56 61 70 00
Access: Pont de l'Alma (RER C).