Exhibition: Alain Séchas
---
It is within its permanent collections that the musée d'Art moderne de la Ville de Paris shows a selection of works of Alain Séchas. This French contemporary painter born in 1955 in Colombes is known for his paintings which notably take inspiration from the universe of comic, and which most of the time represent cats or Martians. It is indeed from two flagship paintings of the museum's collection, Le Chat écrivain (1996) and Untitled 49 (2012) which this eponym retrospective is based. The artiste also exhibits new creations, which come from his studio and which mark a real return to the painter's figuration, which here go back over his favourite character of cat. As he emphasises: "My cats are all the more humans that they incarnate themselves in painting. I like this medium always such adventurous…" (Alain Séchas, 2015). This free exhibition can be visited nearby the Green Hotels Paris, the Eiffel Trocadéro and the Gavarni, before or after a hot chocolate at the salon de thé Carette located not far from there.
"Alain Séchas" exhibition, from February 12th to June 12th 2016.
Open Tuesday-Sunday from 10am to 6pm.
Free admission.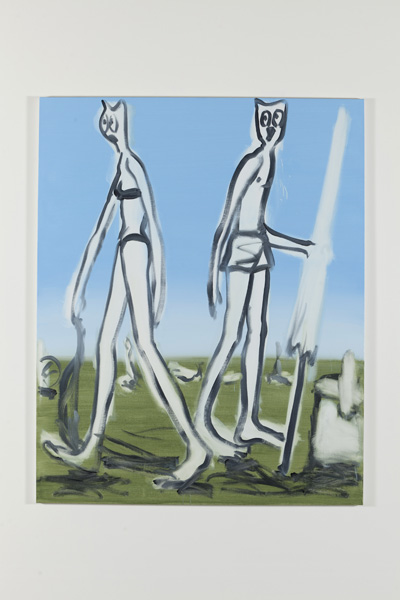 Alain Séchas
Here in 2015, oil on canvas 162 x 130 cm
Courtesy Galerie Laurent Godin
Photo credit: Yann Bohac © ADAGP
Musée d'Art Moderne de la Ville de Paris (MAM)
11, avenue du Président Wilson
75116 Paris
France
Tel: +33 (0)1 53 67 40 00
Metro: Iéna or Alma-Marceau (line 9).