Eiffel Tower: a summer terrace in the colours of the 2024 Olympics candidacy
---
From June 17th till September 17th, 2017, the summer terrace of the first floor of the Eiffel Tower is making its big come back. At a height of 57 meters, you can have a nap on its lawn, or savour ice creams or cool drinks at the bar, open from 9a.m. till 8:30p.m., while enjoying a panoramic view of Paris. This year, the space is rearranged in the colours of the Paris candidacy to the 2024 Olympics, and offers numerous animations. You can for example take a selfie while striking an athlete's pose in front of the Paris 2024 logo, or even race on a fitness bike fixed to the ground. The icing on the cake: Orange set up a virtual immersion device to project in the 2024 Paris, discover the future Olympic sites of the capital and the celebration route, along the Seine, between the Trocadéro and the bassin de la Villette (bassin of the Villette). Enjoy this family event, which is available just a few-minute walk away from the Green Hotels Paris, the Eiffel Trocadéro and the Gavarni.
Summer terrace of the Eiffel Tower, open from June 17th to September 17th, 2017.
Open every day from 9:00a.m. to midnight, except on July 14th, 2017.
Elevator tickets full fare: €11 / Youth fare (12-24): €8.50 / Children (4-11): €4 / Free for those under 4.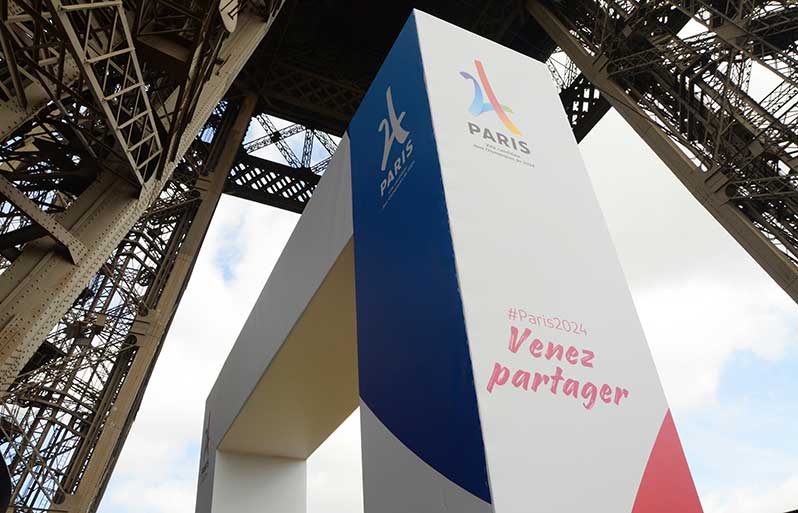 © Maud CHAZEAU – SETE
Tour Eiffel
Champ de Mars
5, avenue Anatole France
75007 Paris
France
Tel: +33 (0) 892 70 12 39
Metro: Bir-Hakeim (line 6), École Militaire (line 8) and Champ de Mars–Tour Eiffel (RER C).

© Maud CHAZEAU – SETE