The Body Shop: a sustainable and ethical business aim
---
British cosmetics chain The Body Shop announced last February 10th its new CSR programme (Corporate social responsibility) entitled "Enrich Not Exploit" ("Enrichir Sans Exploiter"). It includes a series of objectives to be achieved from now until 2020. Committed since 1976 in sustainable development and fair trade, the brand creates innovative products inspired from nature.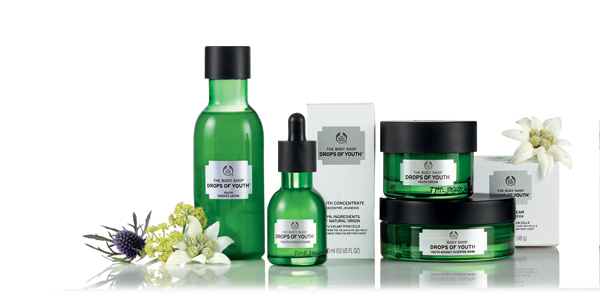 Drops of Youth © The Body Shop France
Ambitious ecological commitments
The brand wishing to became the most ethical and eco-sustainable firm of the world set itself 14 promising goals to be carried out from now until 2020, divided in 3 categories: enrich our people, enrich our products and enrich our planet. The whole company activity is concerned: ingredients, packaging, products, stores, employees, suppliers and communication. "For us, being truly sustainable means shaping our business to work in line with the planet's natural systems so they can replenish and restore themselves" explained The Body Shop's CEO Jeremy Schwartz. These objectives will notably contribute to help 40 000 economically vulnerable people to get to a job around the world, and to protect 10 000 hectares of forest.
Today, more and more brands as H&M and its beauty products range "Conscious" turn towards a more ecological strategy, showing that it is not impossible to combine beauty and environmental protection.
Discover the programme "Enrich Not Exploit".
British Rose Range © The Body Shop France
The Body Shop
57, rue de Passy
75016 Paris
France
Tel: +33 (0)1 45 24 59 81
Metro: Passy (line 6).