Sarmance: organic cosmetics made of vines
---
Last January, we were telling you about La Box est dans le Pré, a beauty box for organic and natural cosmetics, which promoted the brand Sarmance. Today, we focus especially on this brand that uses the benefits of plants and vines to create made in France organic beauty products.
Ecocert certified cares
To make these cosmetics, Sarmance uses two Ecocert certified French grape varieties. The first one is the Corsican grape, the Sciaccarello, internationally-known in the oenology universe because it helps creating quality red wines. Its concentrated in polyphenols gives it an antioxidant power. To verify that, apply morning and evening the Millésime Dry Oil on a cotton pad with a bit of water, to tone up or clean up your skin. The second vine is the Melon de Bourgogne grape (Muscadet). Full of polyphenols and so of antioxidants, it is very efficient for anti-ageing cures and floral waters. This way, the Organic Cleansing Toner Vignes de Loire, with extracts of organic gilded Melon de Bourgogne vine, of a cleansing base of plant origin and of a 100% natural fragrance, helps to remove makeup with smoothness.
Millésime Dry Oil: 3.5 oz. for €20 / Organic Cleansing Toner: 7 oz. for €13.
The products are sold online on the website Sarmance.com, and in the shop Naturalia Sablons near the Green Hotels Paris, the Eiffel Trocadéro and the Gavarni.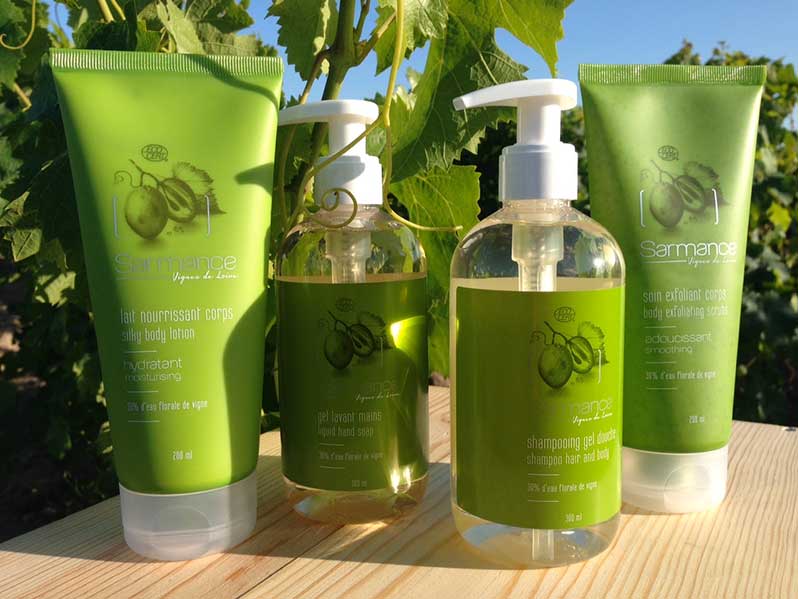 © Sarmance
Naturalia Sablons (website in French)
25, rue des Sablons,
75016 Paris
France
Tel.: +33 (0)1 53 65 14 96
Metro: Trocadéro (lines 6 and 9) or Rue de la Pompe (line 9).