The salon Vivre Autrement 2018 edition celebrates the "zero waste" lifestyle
---
From the 16th to the 19th of March, the Parc Floral de Paris welcomes the salon Vivre Autrement (Live Differently fair) for its 31st edition. This event dedicated to the ethical and organic consumption returns this year with a focus on the "zero waste" lifestyle and the DIY trends.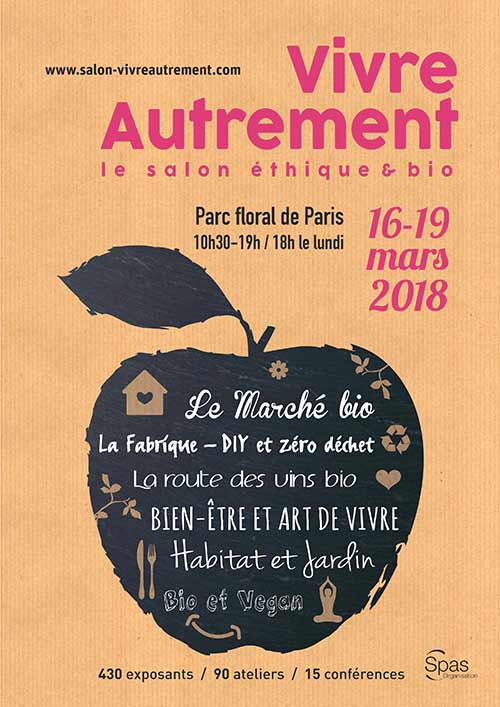 Salon Vivre Autrement 2018 poster © DR
Changing lifestyles to save the planet
Every year, we produce a tremendous amount of waste made up of thousands of packaging, containers and bulky waste. That is why this year, the salon Vivre Autrement aims to teach us a more ecological way of life, by prompting us to join the "zero waste" movement. The latter consists in trying to reduce our ecological footprint as much as possible. To achieve this goal, Vivre Autrement gathered among its 430 exhibitors, several actors of this eco-friendly consumption, including Chloé Metahri, creator of the "My Slow Life" blog. She will moderate conferences and workshops during which she will explain her transition to the zero-waste lifestyle, and how to make eco-friendly and DIY cosmetics and household products. Vivre Autrement shows us how to live a healthier life, in a more economical manner and while also protecting the planet!
31st edition of the Salon Vivre Autrement, from March 16th to March 19th, 2018.
Open from 10:30a.m. to 7p.m. from the 16th to the 18th of March, 2018.
Closing time at 6p.m. on Monday, March 19th, 2018.
Full fare: €7 / Free for those under 25.
Free downloadable invitations on the event website (only available in French).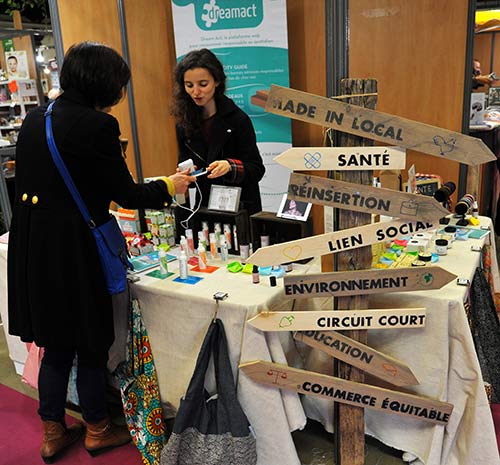 Vivre Autrement 2017 © Photo Faust Favart
Parc Floral de Paris
Bois de Vincennes
75012 Paris
France
Metro: Château de Vincennes (line 1).