42 Degrés: taste some raw food!
---
What is "raw food"? It consists in cooking food for a short time at a very low temperature, in order to re-discover the original savors of the ingredients that you eat almost raw. In Paris, the restaurant "42 Degrés", located rue du Faubourg Poissonnière, is the first 100% raw and vegan food bistro. The menu only features vegan and organic meals, some of which are gluten-free. The Chef only uses seasonal products to prepare all these raw dishes. Among the best sellers, we can mention the Pad Thaï, vegetable noodles served with a cashew and lemon grass sauce, the Portobello mushrooms and Kale chips Burger and the seasonal fruit Cheesecake. As for the decoration, the restaurant has adopted the Parisian bistro codes (seats, very narrow space between the tables, etc.). Will you embrace raw food?
Open from Tuesday to Saturday – 12pm to 10:30pm.
Tearoom from 2:30pm to 7:30pm.
Pad Thaï and Burger: €14 each / Cheesecake: €9.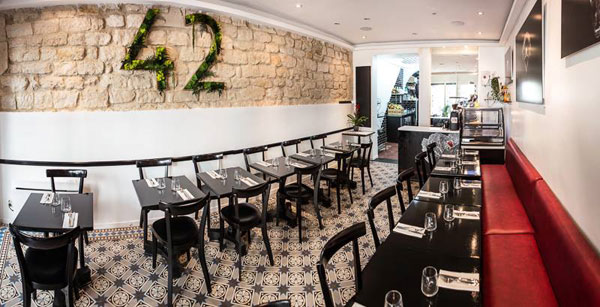 © P-mod
42 Degrés
109, rue du Faubourg Poissonnière
75009 Paris
France
Tel: +33 (0)9 73 65 77 88
contact@42degres.com
Metro: Poissonnière (line 7).