In 2022, a thousand trees will overhang the capital thanks to the "Réinventer Paris" project
---
Among the 372 projects submitted for the renovation of 23 Parisian sites, within the framework of the "Réinventer Paris" competition initiated by Anne Hidalgo in 2014, only 22 were selected by the international jury. Among the big winners, the "A Thousand Trees" project was the laureate of the Pershing site (17th arrondissement).
"A Thousand Trees": a hybrid and ecological project
Designed by the architects Sou Fujimoto and Manal Rachdi, the "Thousand Trees" building will connect Paris to Neuilly while overhanging the ring road. This floating island of vegetation of 57 000 m2 spread out on 8 floors was conceived with the aim to reconcile city and nature. The idea to include green spaces inside constructions is globalizing. Italy had already begun in 2014 with the construction of its "Bosco Verticale" (in English: "vertical woods"), made of two towers which harbour approximately 900 trees.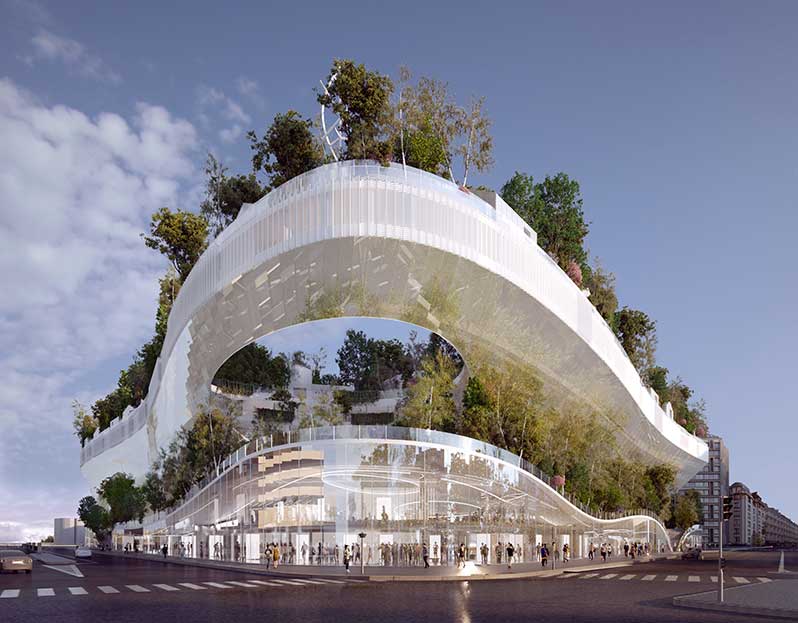 A Thousand Trees - view from la place du général Koenig
© DR
More than a building, a floating village
Expected at the end of 2018, the execution will include the construction of 30 000 m2 of office spaces distributed between two buildings designed to welcome small and medium-sized companies, housings among which 30% will be social and 20% will be intermediate, as well as common spaces (garden-terrace, guest rooms to welcome family or friends etc.). A gourmet street of restaurants (food court) and shops will create a passage between Neuilly and Porte Maillot. Around the constructions, a thousand trees will be planted, among which 391 on the roof, 503 in the first floor which will form a park and 106 divided into two patios. This wall against pollution will also shelter a big covered playground which will host gardening workshops and constructions of cabins in recycled materials.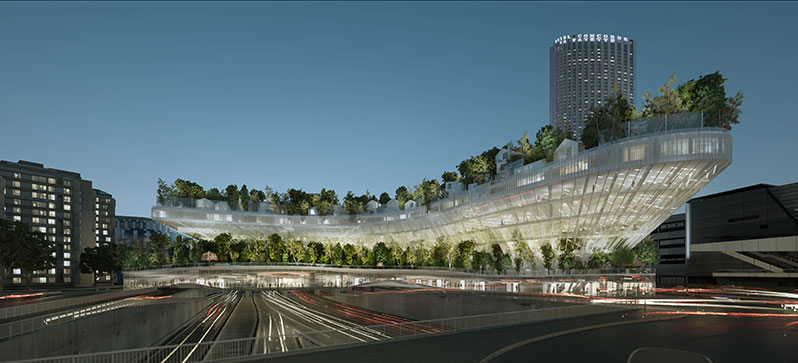 A Thousand Trees – night view
© DR