Will the place de l'Opéra Garnier be pedestrian and filled with plants soon?
---
After the berges de la rive droite which will be pedestrian in 2016, the Mairie de Paris would like to make others emblematic boroughs of the capital accessible, as the place de l'Opéra Garnier (75009). With its Palais Garnier, its luxury stores and its emblematic café, it attracts every day thousands of people. However, the place is considered inhospitable or even dangerous for pedestrians and cyclists. It is Jonathan Sorel, elected member of the EELV (Europe Ecology-The Greens) in Paris's 9th district, who is behind this project of pedestrianisation of the famous Parisian monument's surroundings. He would like the buildings' fronts and roofs which encircle the Opera to be covered with plants as well, and artistic and cultural activities to be organised on the new areas dedicated to the pedestrians. The main goal is to forbid the traffic on the square, until the boulevard des Capucines and the boulevard des Italiens, as well as on the place Diaghilev, located behind the monument. Mayor of the 9th district Delphine Bürkli supports the project and promises a partial pedestrianisation of the square, the installation of a water mirror in front of the steps and the creation of a semi-pedestrian area. The elected members of the 9th district have certainly unanimously voted this project, but for the moment, the council of the Mairie de Paris is still studying it. By the way, if the project passed, it will enable to pursue the ambition of architect Charles Garnier (1825-1898), who dreamed to surround his palace with gardens, in opposition to Georges Eugène Haussmann (1809-1891).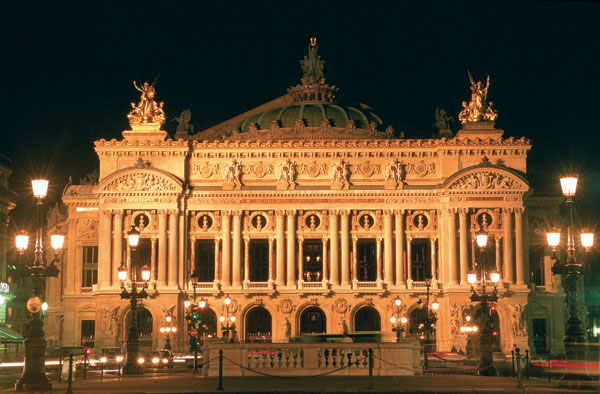 Opéra Garnier – Place de l'Opéra © Paris Tourist Office - Photographer: David Lefranc
Place de l'Opéra Garnier
8, rue Scribe
75009 Paris
France
Tel: +33 (0)1 71 25 24 23
Metro: Opéra (lines 3, 7 and 8), Chaussée d'Antin (lines 7 and 9) and Madeleine (lines 8 and 14).