Minois Paris: natural care for babies
---
Among all the brands which offer natural cosmetics made in France for babies and children, one stands out: Minois Paris. We love their elegant and timeless packaging, as well as its care concocted without paraben, silicone, sulphate, phenoxyethanol or colouring. Thanks to some very soft formulas for the skin, the various products of the range can be used right at birth. Minois Paris sells among other things bath foam scented with orange-blossom water and organic honey, as well as a silky face lotion. Besides its care products, the brand also thought of the protection of children's skin with a Minois x Kerzon scented laundry detergent which respects the fragility of their skin. Minois Paris Cosmetics (website in French) are sold on the brand's website, as well as in the Welcome Bio shop which we wrote about in April, 2017.
Bath Foam: €25 / Minois x Kerzon scented laundry detergent: €21.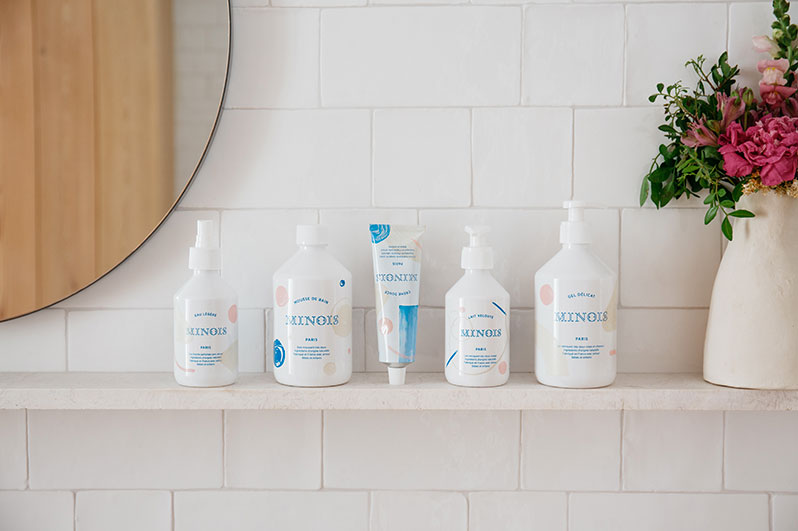 © Minois Paris / Picture: Aurélie Lecuyer
Welcome Bio (website in French)
10, 11 et 13 rue Boulle
75011 Paris
France
Tel: +33 (0)9 83 07 22 59
Metro: Bréguet-Sabin (line 5), Chemin Vert (line 8) or Bastille (lines 1, 5 and 8).
Open from Monday to Saturday from 11a.m. to 8p.m.