La Nuit aux Invalides returns for its 5th edition
---
From July 6th till September 2nd, 2017, the Nuit aux Invalides returns for a 5th edition with the cultural show "Si Paris m'était conté". Once again, this year, the agence Amaclio is organizing the event and is using the latest digital technologies of sound and video-mapping for the projection of a historical tale. The latter will review the highlights which marked 2000 years of the History of France and its capital, from Gaul to the Middle Ages, from the Grand Siècle to the great Resistance fighters. This visual and sonorous show will be broadcasted on 4000m2 of facade of the Cour d'Honneur des Invalides, and will be recited by the great voices of Jean Piat, André Dussollier, Jacques Roehrich and Céline Duhamel. This edition's novelty: a night walk is offered after the show, to go explore l'église du Dôme (the church of the Dome) and the tombeau de Napoléon 1er (tomb of Napoleon the 1st).
"Si Paris m'était conté – La Nuit aux Invalides", from July 6th to September 2nd, 2017.
Every evening from Wednesday to Saturday.
From July 6th to July 31st, 2017 at 10:30p.m.; and from August 1st to September 2nd, 2017, at 10p.m.
Presale tickets: Full rate: €18 / Concessions: €15 / Free for those under 7.
Tickets on the spot: Full rate: €20 / Concessions: €17.
Night visit of the Dôme: €8.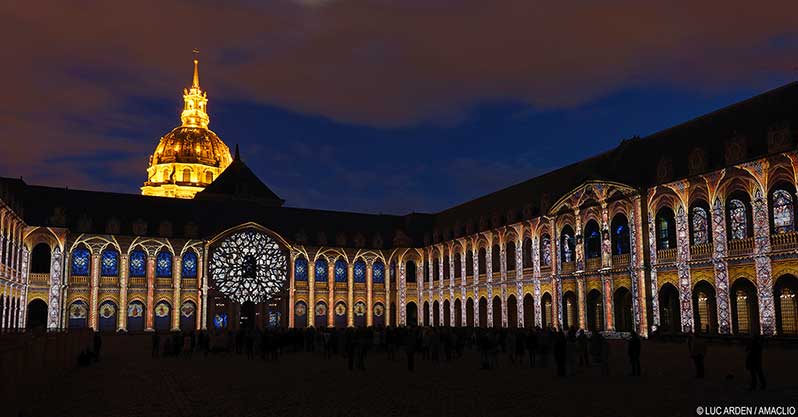 © Luc Arden / Amaclio
Hôtel national des Invalides
Esplanade des Invalides
75007 Paris
France
Tel: +33 (0)1 44 42 37 72
Access: Invalides (lines 8, 13 and RER C).