Park of the Clos des Blancs-Manteaux: a peaceful place right in the heart of Paris
---
Calm and away from the city's noises, you might enjoy this little garden inspired of the middle age situated in the Marais. Still kept secret from the public, the Park of the Clos des Blancs-Manteaux, on top of being a place dedicated to Lady Diana's memory is a yard where it is possible to participate to playful activities turning around biodiversity. You will find more than 250 species of plants (herbs, condiments and medicinal plants). Walking around this very charming park with its wonderful stone bowl in the center, is a good way to escape the capital. Breathe some fresh air!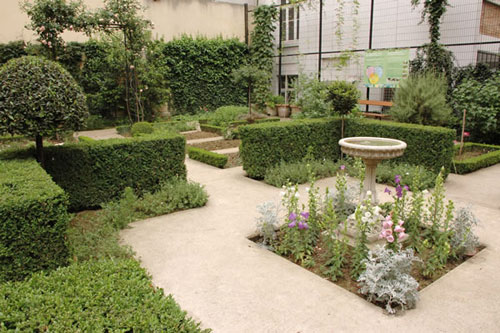 Photo credit: Guillaume Maroussie - Mairie de Paris
Open to public on Saturday and Sunday from 10am to 12.30am, and from 1.30pm to 5.30pm.
Park of the Clos des Blancs-Manteaux
21, rue des Blancs-Manteaux
75004 Paris
France
T.: +33 (0)1 43 28 47 63
Subway Station: Hôtel de Ville (L.1 or L.11).