We Love Green 2018: Orelsan and Charlotte Gainsbourg, the festival's top headliners
---
After having hosted Solange -Beyoncé's younger sister- last year, the music festival We Love Green is welcoming Orelsan and Charlotte Gainsbourg for its 7th edition, from the 2nd to the 3rd of June 2018, at the heart of the Bois de Vincennes.
We Love Green: an exceptional programme
The We Love Green festival 2018 has unveiled its programme and as always, it rocks! Rap, hip-hop, soul, pop, electro, or even rock, the event organisers have selected the very best of the current French and international music scene. Thus, great performers such as Tyler, The Creator, Björk, Agoria or Mount Kimbie will take turns on the various stages of the festival. Young rising stars such as Lomepal and Sampha will also be attending the show.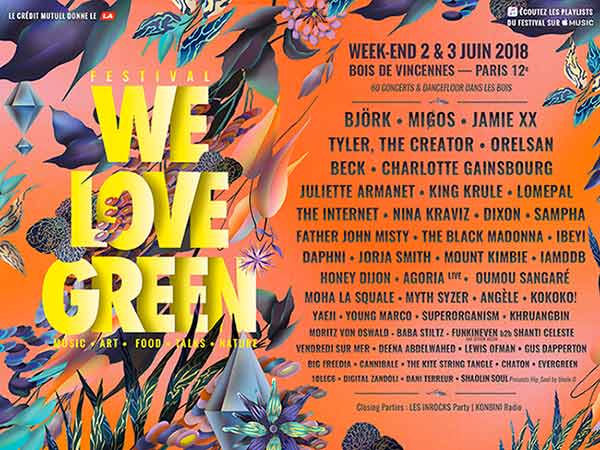 © Merijn Hos
We Love Green: rewarded for its environmental commitment
Each year, We Love Green works to promote another type of partying: having fun while helping protect the environment. Dry toilets, stage powered by solar panels, waste sorting, recycling of used cooking oils or compost production, every aspect is thought out to reduce man's ecological footprint on nature. Even the straw bales used during the event will be donated to the zoo de Vincennes! This environmentally committed music festival has just been honoured by the independent NGO A Greener Festival with the Outstanding prize for its 2017 edition. You have no excuse to miss this fun, green and musical celebration. Hurry up and book your tickets online, they have been dematerialised to avoid the use of paper!
7th edition of We Love Green, Saturday, June 2nd and Sunday, June 3rd, 2018.
Open from 1p.m. to 1a.m. on Saturday, June 2nd and from 1p.m. to midnight on Sunday, June 3rd, 2018.
2-day ticket: €109.
Rates: €55 or €59 / 12-16 y/o: €25 / 5-12 y/o: €16 / Free for those under 5.
Bois de Vincennes
Route Dauphiné, via l'Esplanade Saint-Louis
75012 Paris
France
Metro: Château de Vincennes (line 1).