Exhibition: Here come the Deltons!
---
The Musée de la Chasse et de la Nature is presenting over a hundred pictures from the photography agency Jean Delton, which was active from 1862 to 1914 in Paris. Louis-Jean Delton, with the help of his two sons Jean-Louis and Georges, was specialised in equestrian portrait for half a century. The photographs selected for this retrospective, entitled "Voilà les Delton!" ("Here come the Deltons"), are echoed by contemporary pictures, illustrating a different perception of the horse and its world. The works of art exhibited are from the musée d'Orsay, the musée Carnavalet, even some private collections such as the Hermès archives and France Galop.
"Voilà les Delton!" exhibition, from October 21st 2014 to January 26th 2015.
Open Tuesday-Sunday from 11am to 6pm.
Closed on Monday.
Late opening on Wednesday until 9.30pm.
Full rate: €8 / Concession (under-26s): €6.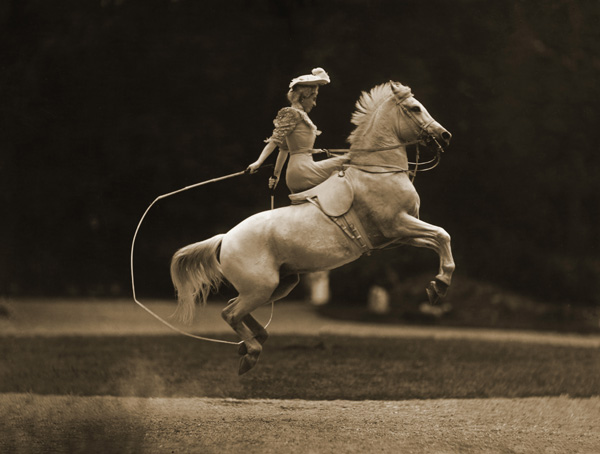 Thérèse Renz, The rope skipping or 'saut de baguette', 1904, J. Delton, modern print from a glass-plate negative
© Archives Hermès (Paris)
Musée de la Chasse et de la Nature (in French)
62, rue des Archives
75003 Paris
France
Tel.: +33 (0)1 53 01 92 40
Metro: Rambuteau (line 11) or Saint-Sébastien-Froissart (line 8).