Exhibition: Margiela / Galliera, 1989-2009
---
As of tomorrow, and until July 15th, the musée de la mode de la Ville de Paris (Museum of the fashion of the City of Paris) will dedicate an important retrospective to the Belgian creator Martin Margiela (1957-). This rich fashion exhibition retraces a period of the fashion designer's career, from spring-summer 1989 to spring-summer 2009. While working as the assistant of Jean Paul Gaultier, between 1984 and 1987, he mainly studied the structure of the garment. Thus, his collections consist of oversized clothes, enlarged up to 200 %, or human-sized doll clothes. Martin Margiela consistently deconstructed fashion throughout his course. More than 130 installations, archives, videos of shows or silhouettes reflect his genius, proving that Martin Margiela is undoubtedly one of the world's greatest contemporary fashion designers. This event is available just a few-minute walk away from the Green Hotels Paris, the Eiffel Trocadéro and the Gavarni, at the Palais Galliera.
Exhibition "Margiela / Galliera, 1989-2009", from March 3rd to July 15th, 2018.
Open from Tuesday to Sunday from 10a.m. to 6p.m.
Nocturnal on Thursday until 10.p.m.
Closed on Monday and on May 1st, 2018.
Exceptional openings: April 1st, the 8th, 10th and 20th of May, as well as July 14th, 2018.
Saturday, May 19th, 2018: the access to the exhibition will be free as part of the European Night of museums, from 6:30p.m. to 9p.m.
Full rate: €10 / Concessions (18-26): €8 / Free for those under 18.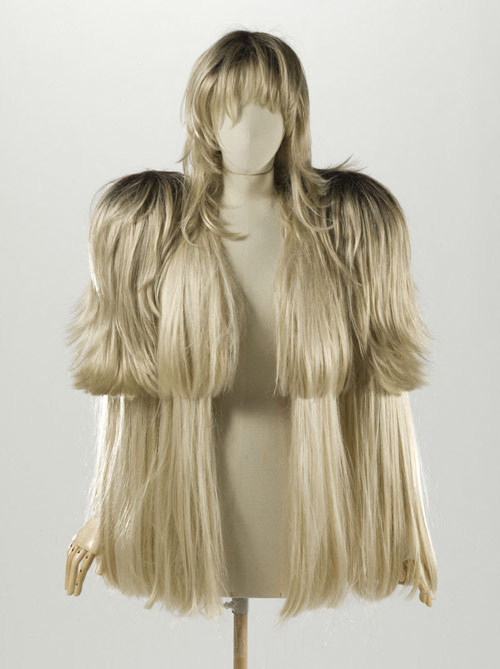 Martin Margiela, wigs and hairpieces jacket, Fall-winter 2008-2009
("Artisanal" collection), then Spring-summer 2009
Synthetic blond hair, ivory taffeta
© Stéphane Piera / Galliera / Roger-Viollet
Palais Galliera – Museum of Fashion of Paris
10, avenue Pierre 1er de Serbie
75116 Paris
France
Tel: +33 (0)1 56 52 86 00
Metro: Alma-Marceau (line 9 - RER C) or Iéna (line 9).