Exhibition: The Secrets of French Lacquer, the Vernis Martin
---
The Arts décoratifs museum presents an unprecedented exhibition about a French technique that epitomizes luxury and refinement: lacquer, also called Vernis Martin. Since the 18th century, this art has adorned carriages and carts, as well as precious wood panels, boxes and cases. Almost 300 objects are exhibited, under the direction of Philippe Pumain, in collaboration with the Lackkunst Museum in Münster, Germany.
Exhibition: "The Secrets of French Lacquer, the Vernis Martin", from February 13th to June 8th, 2014.
Open Tuesday – Sunday, from 11am to 6pm.
Late night on Thursday until 9pm.
Closed on Monday.
Full rate: €9.50 / Concession: €8 / Free for under-18s and visitors between 18 and 25 years old from U.E.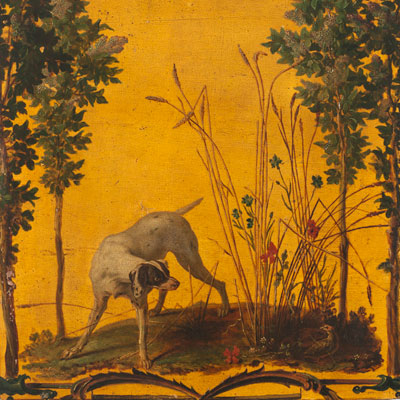 Fragment of a Berlin or harpsichord decoration, Anonymous, Paris, around 1745
Wood, pre­pa­ra­tion, gold background, oil paint decoration, polished varnish, clear lacquer.
Paris, Musée des Arts déco­ra­tifs © Les Arts Décoratifs / photo: Jean Tholance
Les Arts décoratifs
107, rue de Rivoli
75001 Paris
France
Tel: +33 (0)1 44 55 57 50
Metro: Palais Royal – Musée du Louvre (lines 1 and 7), and Pyramides (lines 7 and 14).