Exhibition: Indonésie, les fermiers du miel
---
With "Indonésie, les fermiers du miel" (Indonesia, honey farmers), the musée de l'Homme focuses on the harvest of honey in Borneo, at the heart of the Indonesian forest. Presented on the Balcon des sciences, this exhibition allows the discovery of a unique harvesting method, carried out in the middle of the night at the tree summits home to honey-producing bees, Apis dorsata. Established near the Green Hotels Paris, the Eiffel Trocadéro and the Gavarni, this retrospective is presented in French, English and Indonesian, permitting as many visitors as possible to admire the mysteries of this local "apicollection". It's thanks to the work carried out by the ethnologist and researcher Nicolas Césard, expert of Indonesia and the management of natural resources that the public can benefit from this event highlighting the relations between man and the environment.
Exhibition "Indonésie, les fermiers du miel", from May 20th to November 27th, 2017
Open every day, except Tuesday, from 10a.m. to 6p.m.
Free entry.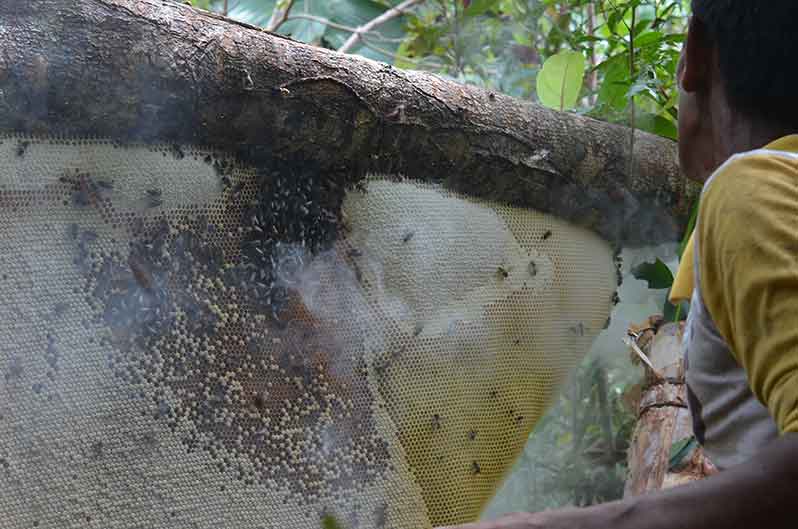 Fumigation of a wild swarm © Nicolas Césard - MNHN
Musée de l'Homme
17, place du Trocadéro
75016 Paris
France
Tel: +33 (0)1 44 05 72 72
Metro: Trocadéro (lines 6 and 9).