Exhibition: Florian and Michael Quistrebert
---
After the exhibition consecrated to Louidgi Beltrame, recommended by the Green Hotels Paris early this month, another retrospective from the Palais de Tokyo caught our attention: the Florian and Michael Quistrebert's. Until May 16th 2016, the museum welcomes their works which invite us to discover abstraction's mysteries. Thanks to contemporary and experimental techniques, the two artists revisit with verve the big motives of this artistic movement, by using coloured LED for instance. Their creation does not stop there, since they also call on gunny, playdough, lacquer for car body or black light, to create their works. Plainly named "The light of the light", this presentation is however disconcerting: the visitors' bearings are troubled thanks to the artificial light of the site which reflects on works by making them iridescent. A feeling of strangeness which goes on till the end of the visit, with the screening of a monumental video.
Exhibition "Florian and Michael Quistrebert: The light of the light", from February 19th to May 16th 2016.
Open every day, except on Tuesdays, from noon to midnight.
Full rate: €10 / Free under 18.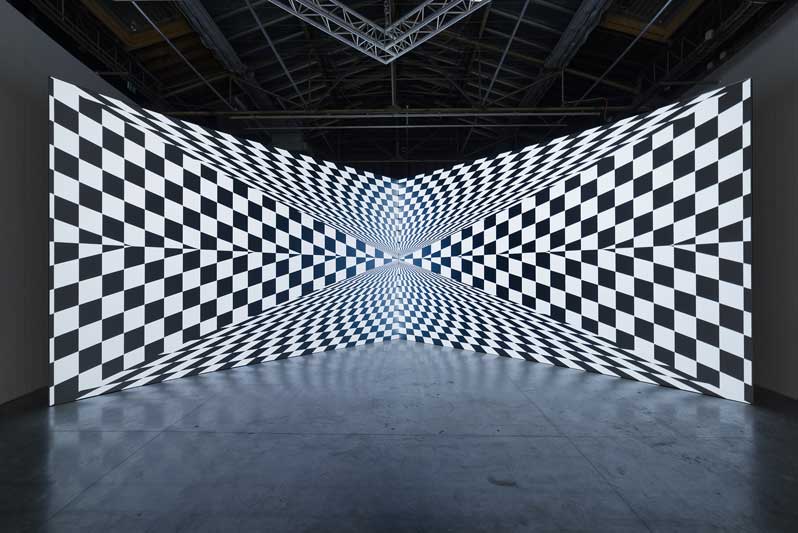 View from the exhibition of Florian and Michael Quistrebert, The Light of the light, Palais de Tokyo, (02/19 – 05/16/2016).
Courtesy of the artists and Galerie Crèvecoeur (Paris). Photo: Aurélien Mole.
Palais de Tokyo
13, avenue du Président Wilson
75116 Paris
France
Tel.: +33 (0)1 81 97 35 88
Metro: Iéna or Alma-Marceau (line 9).