Exhibition: From the Great Mughals to the Maharajas
---
While the exhibition dedicated to Rodin is held until July 31st 2017, the Grand Palais welcomes another event entitled "From the Great Mughals to the Maharajas: Jewels from the Al Thani collection". 270 pieces of Indian jewelry from the Mughal period to the present day are exposed. Diamonds, gemstones, jewels and other spectacular works are revealed to the general public, from the collections of Maharajahs and also from renowned institutions. Organized in partnership with the national museum of Asian arts - Guimet, this event allows us to revisit five centuries of the history of Indian jewelry. The exhibition is divided into two parts: one deals with the artistic refinement of Mughal India, the other articulates around the rock crystal and the jade, two very appreciated materials in the court of the Mughal emperors. These wonders are to be discovered just a few metro stations away from the Green Hotels Paris, the Eiffel Trocadéro and the Gavarni.
Exhibition "From the Great Mughals to the Maharajas: Jewels from the Al Thani collection", from March 29th to June 5th, 2017.
Open every day from 10a.m to 8p.m.
At night on Wednesdays until 10p.m.
Closed on Tuesdays and on May 1st.
Full rate: €13 / Concessions: €9.
The exhibition participates to the European Night of museums on May 20th 2017: free from 8.p.m to midnight.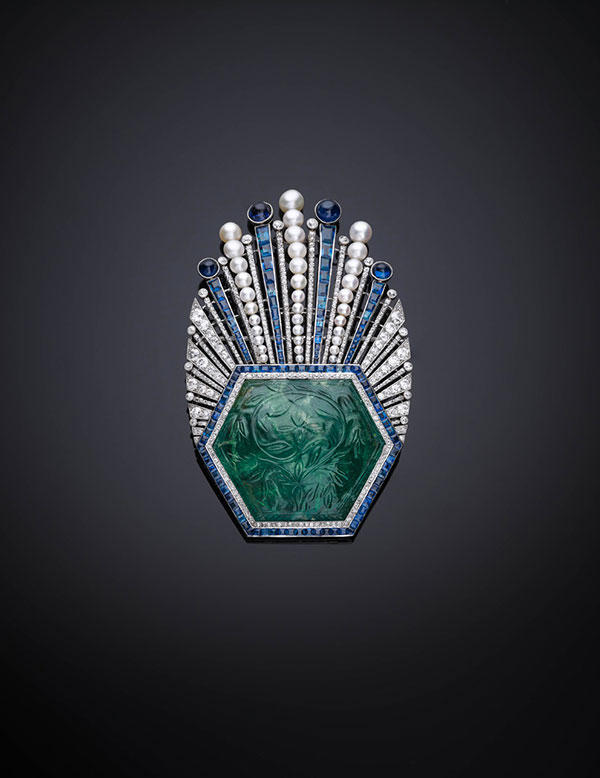 Aigrette
Paul Iribe Creation; Robert Linzeler Emerald development: India, 1850-1900; frame: Paris, 1910
Platinium, emerald, sapphires, diamonds and perls. H: 9 cm; l: 5.8 cm; D: 1.5 cm
© The Al Thani Collection 2016. All rights reserved. Photographs taken by Prudence Cuming
Grand Palais
3, avenue du Général Eisenhower
75008 Paris
France
Tel: +33 (0)1 44 13 17 17
Metro: Champs-Elysées-Clemenceau (lines 1 and 13) or Franklin Roosevelt (lines 1 and 9).