Exhibition: Churchill – de Gaulle
---
"In the afternoon of June 17th, I explained my intentions to Mr. Winston Churchill. Wrecked by the desolation on the shores of England, what would I have done without his cooperation? He immediately offered me the BBC and put it at my service as somewhere to begin." It is in these terms that General de Gaulle mentions in his memoirs the assistance provided to him by Prime Minister Winston Churchill as he arrived in London in 1940. The latter, impressed by the General's resolution to continue fighting, allows him to broadcast the famous Appeal of June 18th, 1940, considered a founding text of the French Resistance. The commemorations of the 70th anniversary of the end of World War II and of the 50th anniversary of Churchill's death give the opportunity to recount the careers of these two men, from their origins to their passing, through the "Churchill – de Gaulle" exhibition. From April 10th to July 26th 2015, the Parisian Musée de l'Armée hosts this retrospective which, through various items, speeches and archives, takes a closer look at the sometimes strained yet generally friendly relationship uniting these two great historical figures.
"Churchill – de Gaulle" exhibition, from April 10th to July 26th 2015.
Open every day from 10am to 8pm.
Late opening on Tuesday until 9pm.
Full rate: €8,5 / Free for visitors under 18.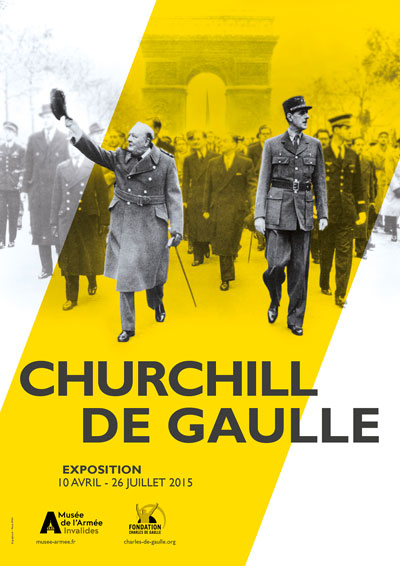 Churchill - De Gaulle, official exhibition - © Graphica.fr / RMN photo
Musée de l'Armée
Hôtel des Invalides
129, rue de Grenelle
75007 Paris
France
Tel: +33 (0) 810 11 33 99
Metro: La Tour-Maubourg (line 8), Invalides and Varennes (line 13).