Exhibition: Amadeo de Souza-Cardoso
---
The Grand Palais welcomes the first major retrospective consecrated to Amadeo de Souza-Cardoso since 1958. These are 250 works from the artist that have been gathered but also some of his close friends, among them Amedeo Modigliani, Constantin Brancusi, Juan Gris or the couple Delaunay, to mention just a few. Organised by the Calouste Gulbenkian Foundation (in French) and the Réunion des musées nationaux-Grand Palais, this large retrospective enables to rediscover the singular style of the Portuguese painter. Indeed, his works echo the different artistic movements of the 20th century, from Fauvism to Impressionism, from Cubism to Futurism. An event to discover just nearby the Green Hotels Paris, the Eiffel Trocadéro and the Gavarni. It will also be an opportunity to discover photographs from Seydou Keïta, exhibited too at the Grand Palais until July 11th, 2016.
Exhibition "Amadeo de Souza-Cardoso", from April 20th to July 18th 2016.
Open on Mondays, Thursdays, Fridays, Saturdays and Sundays from 10pm to 12pm.
Nocturnal on Wednesdays until 10pm.
Closed on May 1st and July 14th 2016.
European Night of Museums, on May 21st 2016: all the exhibitions of the Grand Palais will be opened for free from 8pm. Possible admission until midnight, closing at 1am.
Full rate: €13 / Reduced rate: €9.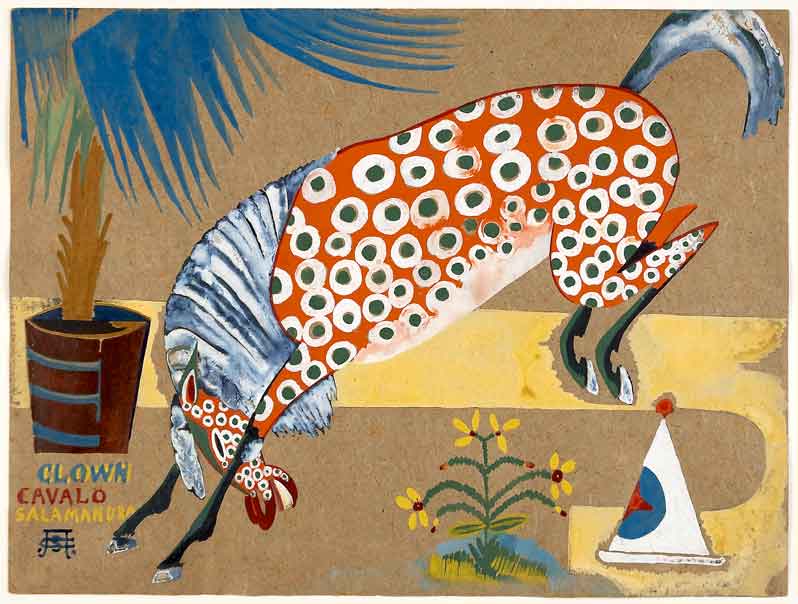 Amadeo de Souza-Cardoso, Unknown title (Clown, horse, salamander), around 1911-1912,
Watercolour on paper, 9.37 x 12.52", Lisbon, CAM / Fundação Calouste Gulbenkian - ©Photo Paulo Costa
Grand Palais
3 avenue du Général Eisenhower
75008 Paris
France
Tel.: + 33 (0)1 44 13 17 17
Metro: Champs-Elysées-Clemenceau (lines 1 and 13) or Franklin Roosevelt (lines 1 and 9).