Exhibition: 7 years of reflection
---
The exhibition 7 years of reflection presents works of art acquired by the Musée d'Orsay, as well as those received throughout the past seven years. The general public will also be able to get their money's worth with the enriching permanent collections of the museum. Amongst the pieces presented, you can find the paintings of Edouard Vuillard (1868-1940) or of Pierre Bonnard (1867-1947) associated with French objects of art from the XX century, but also the furniture of Diehl, and even, the English photographs of Cameron. As well as over 180 works of art that are on show until the end of February 2015.
Exhibition "7 years of reflection", from the 18th November 2014 until the 22nd February 2015.
Open Tuesday, Wednesday, Friday, Saturday and Sunday from 9.30am until 6pm.
Open late on Thursday until 9.45pm.
Closed on Monday.
Standard price: €11 / Reduced price (18 – 25 European Union citizens, for all from 4.30pm except Thursday until 6pm): €8.50.
Free for under 18yrs and the first Sunday of every month.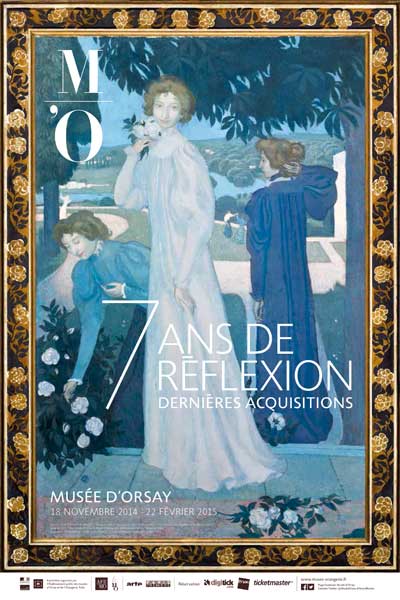 Maurice Denis (1870-1943)
Portrait of Yvonne Lerolle in three aspects, 1897
Oil on canvas, 170 x 110 cm
Paris, musée d'Orsay, achat, RF 2010 9
© Musée d'Orsay, dist. RMN-Grand Palais / Patrice Schmidt
Musée d'Orsay
1, rue de la Légion d'Honneur
75007 Paris
France
Tel.: +33 (0)1 40 49 48 14
Metro: RER C Musée d'Orsay or Solférino (line 12).