Destinations Nature: the fair dedicated to outdoor sports and ecotourism
---
The salon Destinations Nature returns from the 15th to the 18th of March, 2018, at the Parc des Expositions de la Porte de Versailles, in Paris. An event which will delight lovers of outdoor activities.
Introduction to golf and dream destinations
Like every year, Destinations Nature aims to present the last trends related to outdoor activities and hiking, but that's not all! In partnership with UGOLF - the first Golf Academy in France -, this 34th edition designed for lovers of outdoor sports a space dedicated to golf. Introductions to the sport are planned for the visitors. Another new feature this year, the presentation of Costa Rica and its many assets (wildlife, lush flora, hidden beaches, etc.). The Seychelles tourist office will also unveil the ecotourism activities provided by the magnificent archipelago of 115 islands! Among them, diving, hiking, fishing or even, trekking (wilderness hiking).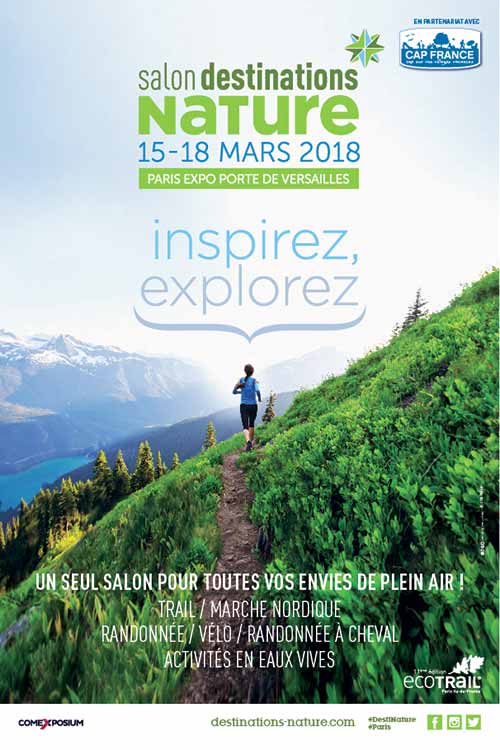 © Destinations Nature
Bonus: your Destinations Nature admission ticket also gives access to the Salon Mondial du Tourisme (International Tourism Fair) (website in French), which also is held at Porte de Versailles, at the same time.
Salon Destinations Nature (website in French), from the 15th to the 18thof March 2018.
Open every day, from 10a.m. to 7p.m.
Closing time at 6p.m. on Sunday.
Rate of the spot: €12 / Presale rate (on the fair's website): €12 / Free for those under 12.
Parc des Expositions – Porte de Versailles
1, place de la Porte de Versailles
75015 Paris
France
Tel: +33 (0)1 40 68 22 22
Metro: Porte de Versailles (line 12).