La Pagode : the Asian inspired cinema
---
Seventh art lovers can find their happiness within an independent cinema as historical as unusual : la Pagode. Nestled in the heart of the 7th arrondissement which is the unique projection place, the contrast between its Asian inspired architecture and the remainder of the neighborhood will know how to surprise you. As such, he is often considered as the most original capital's cinema. Surrounded by a luxurious vegetation, you just have to walk through its doors to forget that you are still in Paris.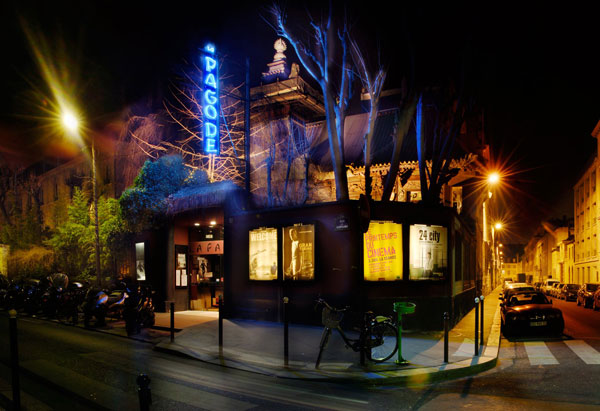 A historical moment
La Pagode has been built at the end of 19th century, when the West was particularly fascinated by Asian culture. Imported from Japan, it has settled in the heart of Paris. It was at first a gift from François-Émile Morin, Bon Marché head, offered to his wife and used as a reception hall. La Pagode became a cinema in 1931. It has only 2 venues, one modern with 180 seats and the other Japanese with 212. This latter, decorated in a luxurious way, has made this cinema reputation, as well as its garden. To miss nothing from this place's charms, classified as Historic monument, la Pagode tearoom is expecting only you to conclude your cinema afternoon on a high note.

Normal Price : 9 € / Reduced price : 8 €.
La Pagode Cinema
57 bis, Rue de Babylone
75007 Paris
France
Phone: +33 (0)1 45 55 48 48
Access : Saint-François-Xavier (line 13).