Swimming in the bassin de la Villette is now possible!
---
This year, for the 16th edition of Paris Plages, Parisians can swim free of charge in the bassin de la Villette from July 15th, 2017. After several years of research, the Mairie de Paris (City hall of Paris) managed to isolate three basins for adults and children: a big basin of a depth of 2 metres, a medium-sized basin of a depth of 120 cm, and lastly, a basin for children of a maximal depth of 40 cm. To insure the safety of swimmers and the cleanliness of water, the City of Paris planned a very sharp purification system which blocks waste water discharged by barges, and which prevents solid waste and fishes from penetrating into the swimming area. And that's not all! For the greatest delight of families, the bassin de la Villette will offer activities every day such as yoga, dance lessons, table football, bocce, as well as workshops and libraries for children. The bassin de la Villette will be the ideal location to spend beautiful summer days with friends and family.
Paris Plages (website in French), from July 15th to September 15th, 2017 (except on August 15th), between 11a.m. and 9p.m.
Free entry.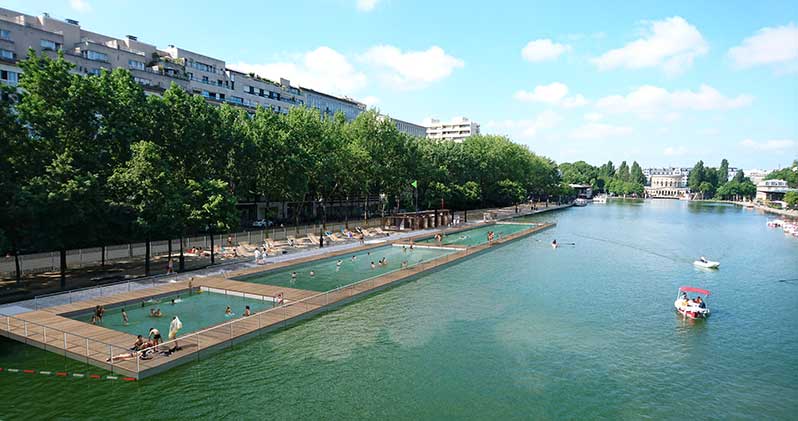 Photomontage – Bassin de la Villette – Photographer: Mairie de Paris
Bassin de la Villette
64, quai de Seine
75019 Paris
France
Tel: +33 (0)1 49 15 98 98
Metro: Crimée (line 7).