Exhibition: Aventures océanographiques
---
For its new exhibition, after "Au fond des océans. 40 ans d'exploration des fonds marins", the Aquarium Tropical de la Porte Dorée in Paris exposes 25 models of boats and 15 watercolours of the painter and sailor Pierre Raffin-Caboisse. This retrospective thus reveals the great geographical explorations carried out from the 15th century to nowadays. On the spot, the public can admire models of ships from public or private domains. Among them: historic exploration ships, ancient and modern French submarines, oceanographic ships from the civil society, as well as legendary buildings which participated to the foundation of contemporary oceanography. This event is available to discover with your family, and it will maybe create, who knows, vocations for the future young sailors!
Exhibition "Aventures océanographiques. Navires et marins au service de la science" (Oceanographic adventures. Ships and sailors in the service of science), from May 9th to September 3rd, 2017.
Open from Tuesday to Friday, from 10a.m. to 5:30p.m., and from Saturday to Sunday from 10a.m. to 7p.m.
Closed on Monday.
Full rate: €7 / Concessions: €5.50.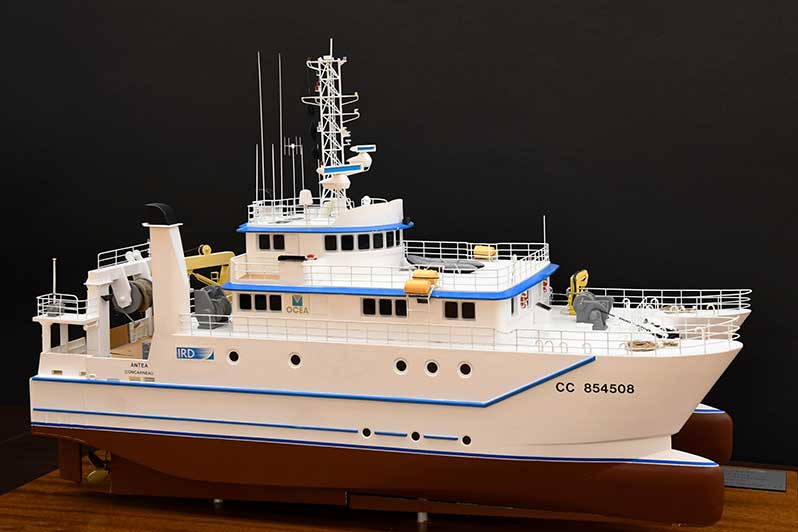 Model of the ship Antéa lent by the IRD © Anne Volery
Aquarium Tropical de la Porte Dorée (website in French)
293, avenue Daumesnil
75012 Paris
France
Tel: +33 (0)1 53 59 58 60
Metro: Porte Dorée (line 8).