Exhibition: Yves Saint Laurent 1971, la collection du scandale
---
In the History of fashion, some Haute Couture collections have left a bigger mark than others. January 29th of 1971 marked a turning point in the Haute Couture tradition, with the presentation of young fashion designer Yves Saint Laurent's outrageous collection, "Libération". The reason why? This Summer/Spring 1971 collection was widely inspired by the fashion of the war years, the '40s. Figures were adorned with short dresses, square shoulders, platform shoes, and exaggerated makeup. This collection was inspired by occupied Paris, and got heavily criticised by the press. However, it paved the way for the retro trend, very popular in the second half of the 20th century. This exhibition offers to discover the French fashion during the Occupation.
"Yves Saint Laurent 1971, la collection du scandale" exhibition, from March 19th to july 19th 2015.
Open Tuesday-Sunday from 11am to 6pm.
Closed on May 1st and 8th, and on July 14th 2015.
Full rate: €7 / Reduced rate (under-18s): €5.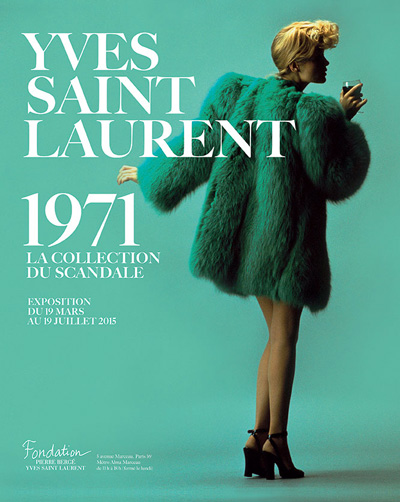 Poster of the exhibition. Green fox fur coat worn by Willy Van Rooy
Spring/summer 1971 haute couture collection
© Photo Hans Feurer / Elle / Scoop
Fondation Pierre Bergé – Yves Saint-Laurent
3, rue Léonce Reynaud
75116 Paris
France
Tel : +33 (0)1 44 31 64 31
Metro : Alma-Marceau (line 9).