Changeons d'Air(s): the festival dedicated to the united tourism
---
Because more and more travellers get interested in united tourism, the ATES (United Fair Tourism Foundation) organises the Festival Changeons d'Air(s) (Get a Change of Air Festival), which advocates an environmentally-friendly tourism. Thanks to Artcoop etc., an artists' cooperative, the ATES offers five thematic meetings in diverse places of the capital and the Ile-de-France. This 2015 edition highlights Maghreb, Africa, Latin America and Asia through exhibitions, ephemeral stores, tastings, concerts, DJ sets, and also projections. Latin America will have the place of honour at the Carreau du Temple, with Itacate and his Mexican gourmet specialties, or with Guayapi, a tropical cocktail bar. In the 12th district of Paris, at the Sensespace (Bastille borough), the public will discover Africa with Tanganyka's concert, master of the Congolese afro-punk. A store of African fabrics and clothes with wax patterns from the Ladyhood brand, will allow to discover a colourful fashion and vintage trend. At last, a stroll will also be organised in the Château Rouge borough in Paris, to discover the "Petit Mali". These destinations were selected, because they all offer ethical and sustainable trips options. The Festival Changeons d'Air(s) (Get a Change of Air Festival) thus offers the possibility of discovering a united tourism while being entertained and educated.
Festival Changeons d'Air(s) (Get a change of Air Festival) (in French), From October 31th to November 28th 2015.
All events are free.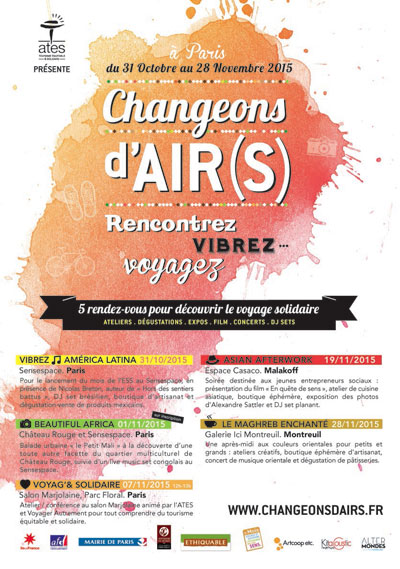 © DR
Carreau du Temple (in French)
4, rue Eugène Spuller
75003 Paris
France
Tel: +33 (0)1 83 81 93 00
Metro: Temple (line 3).
Sensespace (in French)
11, rue Biscornet
75012 Paris
France
Metro: Bastille (lines 1, 5 and 8).